Schwartz Circuit #4: Pandora
New Views
I've only been doing this for four weeks, but I've learned so much already from sharing with you all. Thanks for being my readers!
Here's another short story. Short can mean a lot of things. My writing program says this one takes 15 minutes to read. I hope you'll find it worthwhile.
I've decided to add a sort of cover photo to each issue, because it makes them look better online. All the photos I use for this newsletter, unless otherwise specified, are my own. This one is of Jordan. You can pretend it's symbolic.
I hope you're getting some rest this evening. Have a beautiful Sunday!
Paige
---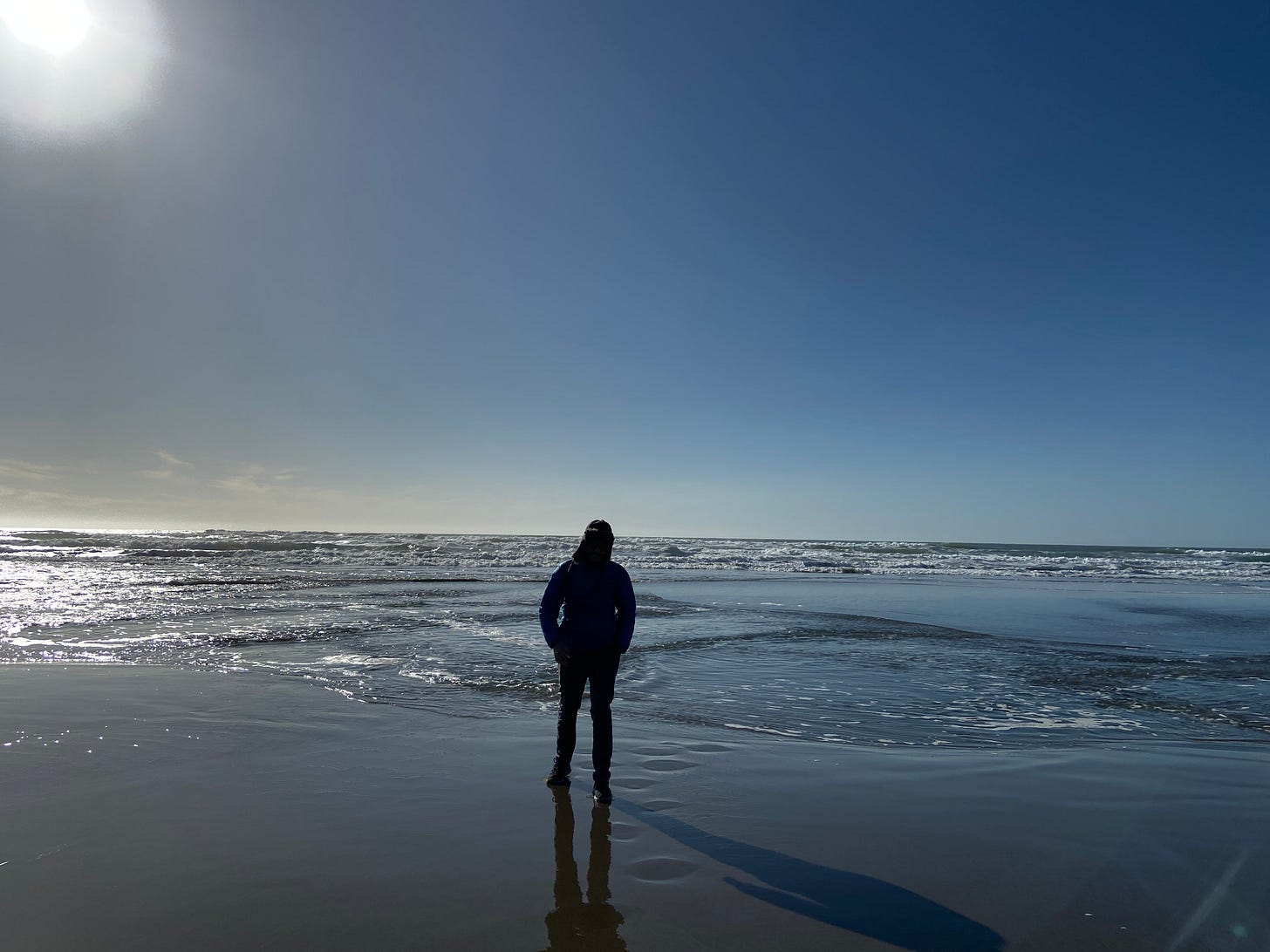 Pandora
The demo would change everything, but first they had to get it to work. By the time the new build was ready, it was almost six, and Sasha was running out of time. She needed that update, and she had about fifteen minutes before the shuttle left for the city. In the bathroom, she joined a few teammates leaning into the mirror, popping out their Views.
"You'd think they'd make this easier," someone remarked, a tired comment. This felt like loosening tiny suction cups from your irises. This was why most people — normal people, who didn't work at the company that made the Views — only took them out to sleep.
Back at her desk, she put eye drops in and watched the Views glowing in their case, running the familiar update animation, a network of chips appearing on the surface of the lenses like spiderwebs under a flashlight.
She knew there were some major bugs lurking in there, including a top priority issue that occasionally, for reasons no one had been able to determine, brought the whole demo down. She'd combed through the logs all afternoon. If she didn't find that bug tonight, tomorrow it would be their doom. Murphy's law was Sasha's only superstition, the only thing she knew on faith to be true.
Out past building 4, cut through the cafe — if she ran, she still had enough time to make it to the shuttle, but not enough time to pop the Views back in, now that they'd announced they were ready. Moving through campus without your Views felt like going back in time. Lacking their personal modifications, everyone looked flat, desaturated. Now that Views were so widely adopted — they celebrated over 4 billion users last month — most people didn't bother to wear makeup or dye their hair anymore. Sasha herself would've hated to be seen without her mods, though it was somewhat inevitable at work, with coworkers taking their Views out to update, and testing glitchy new hardware. The polite thing was to look down and away, avoid embarrassing anyone with your naked eyes.
The shuttle always smelled slightly septic, and today was no exception. Heading upstairs, where the air tended to clear, Sasha saw her old manager, Irena, and Irena saw her. She had no choice but to take the open seat and make some small talk, the whole time keeping her face turned away as much as etiquette allowed. She was nervous that Irena would notice the conspicuous lack of rings around the whites of her eyes, but it would have been even more awkward to say something. At one point Sasha managed to fish her sunglasses out of her bag and put them on, allowing her to indulge her curiosity and stare full-on at Irena's natural face. Her modifications weren't as severe as Sasha had long suspected. She had clear skin and large, dark, deep-set eyes. Her nose was real.
"I can't believe we lost you to the Modifications team," Irena kept saying, pure frustration, not a hint of pride. She'd heard that Sasha's team was building a way to modify other people, not just yourself. Remote mods — was that right? Sasha recycled the team's worn-out cover story, and Irena laughed, not buying it. "After all this secrecy," she said, "that demo better be worth it!" To think Irena used to scare her with a line like that. Maybe it was seeing her without the mods, but Sasha felt a pang of pity for her old boss. Ambition was a strange thing. It was like a color that only looked good on some people.
As usual, Irena hungered for news of Sasha's personal life. She liked to pry for the details of bad dates and offer worse advice. Now, with some relish, Sasha told Irena that she had a boyfriend. Six months. He didn't even work in tech — he was a teacher. Feeling Irena losing interest, Sasha became expansive: Graham wasn't like anyone she'd dated before, he had strong principles, he made her happy.
Thus she killed the conversation, kicked dirt on the grave, and excused herself to the little bathroom on the bus, to wash her hands with that familiar foam that did not mask the septic smell but rather gave it an even more noxious dimension. She put on her Views, and sitting back down, checked her phone to see that everything was syncing as expected. From the team chat, she noticed some new fixes were in, though her bug remained at large.
The shuttle, interminable as ever through heavy evening traffic, finally dropped Sasha downtown. She walked home at double pace, picturing her code in her head, looking for edge cases. She noticed she was home with a jolt, and saw Graham's car, her life coming back to her. She'd forgotten he was staying over tonight. From a distance she thought he was sleeping, eyes closed and head back, but then she realized he was mouthing words, singing to himself at full volume.
She got his attention at the window, had no way to avoid startling him, and for a moment he looked at her with anger and fear, a look that worried her all the way up to her apartment, his hand around her waist making it tricky to climb the stairs. Sometimes she felt still uneasy around him, like he was a pony that might bolt if she made a sudden move.
But sometimes Graham was perfectly tame. That night he kicked his shoes off and said it was good that she should focus on her work, and did she want him to make dinner? While he cooked she opened her laptop and walked through the demo sequence. Sasha wanted a word with whoever decided it was a good idea to put a hat on the VP. Sure, it was playful, inoffensive, and non-trivial, a fine illustration of the rendering code for the remote mods. But the complex dimensions of the hat — a floppy, worn cowboy type; their designer had really outdone himself — stretched the demo code to its limit. If they'd decided to merely change the VP's eye color, they'd have all slept soundly that night.
Sasha queued up the hat in the modifications editor on her phone and passed it to her Views, where it appeared to float in midair above the kitchen counter. So far so good. On her phone screen, she used her finger to drag the hat onto Graham's head. He was turned away from her, stirring something on the stove, and as she dropped the hat, he moved away. Then her vision went black momentarily — her Views had crashed. She made a sound that was part frustration, part thrill of the hunt.
"Just finally managed to repro this bug," she told Graham, who pointed out that he actually, disturbingly enough, understood what that meant.
She sat waiting for the Views to come back online, watching Graham with naked eyes. He abstained from almost all modifications, he was rather opinionated on that point, but now she could see his one weakness: his receding hairline.
"So after tomorrow, are you going to be able to tell me what you're working on?" Graham smirked at her as he started to spoon pasta onto plates. He knew the answer already. No sharing until the public launch.
"Wait, can you stand still for a second?" Her Views were back, Graham's hair filling out in the space of a blink. "I need to test something."
He obeyed and she dragged the hat again, slowly, on top of his head. She let out her breath. There was her boyfriend, holding a plate of spaghetti, totally Western. She couldn't help laughing.
"Ok, now walk around the room."
"I really wish I knew what you were looking at." As he moved, the hat exhibited a little motion delay and some vertical offset, but it wasn't too bad. "I have a feeling I look ridiculous right now," Graham said.
"I'm sorry, I can't disclose that information."
"Right." He stopped in the hallway with a flourish and bowed in her direction.
"Oh, that's not good." The hat appeared to lose its hold and jerked forward before floating back to rest on Graham's head. Luckily the VP knew not to move around too much, and not draw attention to the fact that the remote modifications weren't as smooth and natural as the personal ones, not by a long shot, not yet. For one thing, they didn't have access to the private, high-fidelity physical scans that the personal mods used for rendering. The workaround was to build a model, on the fly, of the remote target. As your Views spent more time around a person, seeing more angles, the model improved.
At two in the morning, Sasha fixed the bug and dropped a last cowboy hat onto Graham's sleeping head. With the final, final version of the demo compiled and sent off, she nuzzled close to his ear and murmured, "I'm sorry." He made a noise in his sleep that she didn't understand.
The next day, though she could hardly bear to watch it — and had a poor view anyway, standing in the wings with her team, readying computers and back-up Views — the demo went off without a hitch. In the coming weeks, they had their hands full of a steady stream of bugs from coworkers who'd eagerly started testing the alpha version. Already, she heard talk of giving candidates the same faces during interviews, a neutral, tanned androgyne bound to nullify any bias. A joke was going around that parents hoped their teenagers would be kind to them when this thing went public.
Indeed, a bigger controversy, which started to simmer during the post-demo Q&A, had caught flame. The top thread on the main company channel, by one Bryce Baldoza, whose profile picture was a golden retriever, declared: "It is unconscionable not to give people a way to approve the modifications that you're making." This thread had over a thousand upvotes and twice as many comments.
In a meeting with her manager — very much the opposite of Irena, well-respected but with an odd penchant for over-modifying — he told Sasha not to worry about the thread, where he thought she'd been spending a bit too much time fanning the fire. She wasn't worried — she was right. Gathering consent would be prohibitively expensive, and ruin the user experience. And no one had to consent to viewing a personal modification. Now, with the remote mods, it was symmetrical, as it should be. Content filters could be applied ahead of time, putting the power in the users' hands rather than relying on their content team to hunt for offensive personal mods, a strategy that wasn't working so well, in case no one had noticed the bad press.
Meanwhile, Sasha's manager kept pushing the development team to go out and test new use cases. At this point, they couldn't learn much more from modifying the people in the office. They had to hunt for bugs in the wild.
Since she'd known him, Graham had refused to shave his beard, or even add a quick personal modification so she could see him clean-shaven. One evening, while he was sleeping, she used the remote mods to erase the whole thing from his face. Though she didn't find any bugs, he looked so much better, just as she'd always pictured. Kissing him gave her a bit of a sensory disconnect, but it was a small price to pay. Her teammate Jessie, who built the eraser, waved off this success: "Hair is easy. Try something with skin."
She'd often noticed a scar above Graham's eyebrow, and asked him where it was from, realizing she didn't know. He told her one time he passed out drunk in college, hit his head on the bathroom counter, and woke up in a pool of blood. It didn't seem like a scar worth keeping, and she removed it while he wasn't looking. At first, she could see the visual noise around it, but after several hours, it disappeared entirely.
A few weeks later, her team ran into some issues with the muscle rendering. It was an incredibly shallow prospect, increasing Graham's muscle volume, but it was for science. One night, while he was reading, she pretended to watch something on her phone and started playing around in the editor. The defaults were way too much; she almost laughed out loud, and made a mental note to talk to the product manager. But then she found an index she actually liked. Especially the arms. Had she always been a sucker for arms? At first they looked slightly drawn-on, part painting and part Graham, but the way they got more realistic as the model worked, it was like the muscles were sinking below the surface of his skin, and at the same time rising from under it. When he looked up, and caught the way she was staring at him, he came over and touched her hair, and they kissed in a way they hadn't in months.
One night, not long after, she was lying close to him with her hand on his bare chest, noticing it could be both strong and soft. He turned and looked into her eyes, and she smiled, but then she noticed him really looking, searching.
"Are you still wearing your Views?" he asked her. He never kept his on in bed, as much as she wished he would; he said it was a personal code. And since he didn't modify much, she used to take hers out when she brushed her teeth. But lately she'd started leaving the Views in without realizing — or maybe she had realized it, the first few times. Now she acted surprised and said she must have had too much wine, forgotten to take them out.
She told herself she'd be more careful after that and tone down the experimentation. Instead she just worked harder, stayed up later, and daydreamed about Graham. One night, she decided to go to his place at a time when she probably should have gone to bed. He said he couldn't wait. When she arrived, he opened the door with a strange, expectant smile.
"Notice something different?"
She could find nothing different about him, except that since she'd updated her Views to the latest alpha build, some of the remote mods were even better. The whites of his eyes shone, and his skin was like a child's. This charming face registered full disbelief.
"You really don't notice anything?"
Nervous now, she leaned in and kissed his tensed lips to buy some time. That was when she felt the smooth, prickly skin.
"Obviously," she said, drawing it out sarcastic while she pulled back, mind racing. "Your beard! I was just messing with you."
To her eyes he looked just as clean-shaven as he had every day since she used the eraser. He continued to stare at her with confusion, and she reached up to stroke his face. "All gone," she trilled, trying to feel around, sensing that it was — but then her hand hit some hair. "Oh, what?" she said, and knew instantly that she'd blown it.
He lifted her hand from his face. "What's going on with you?"
"What did you do with your beard? I want to touch it."
"Can't you see it?"
"Of course I can."
He narrowed his eyes. "It's a chinstrap," he said, rubbing his jawline. "It looks ridiculous. I just thought you'd get a kick out of it before I shaved the whole thing off."
"Oh yeah, it's hilarious. It looks so dumb." She laughed pathetically.
Bemused, he asked again, "Is everything ok with you?"
Her strategy at first was to deny and ignore, and she kept it up as they went inside, demanding to fix him a drink, trying to change the subject. But he wouldn't let up.
At last she briefed him on the concept of the remote modifications. "I was just testing stuff," she said. "I couldn't tell you because it was confidential."
She hoped he'd drop it. The beard was a minor thing, she thought, understandable. But Graham immediately demanded to know what else she'd changed. "I don't know, just some random small stuff," she told him. "Just for testing."
"Oh yeah?" He drained his drink and got a weird look on his face. "Send me a picture then."
"What?"
"Send me a picture of what you're seeing when you look at me. You know. Didn't your company invent the wink camera?"
His tone alarmed her. She didn't have time to get her phone out and remove any of the modifications. "Come on," she said, "that would be a full breach of confidentiality. They could come after me."
"Are you kidding me? You just told me everything about these remote mods. And it's not like it's some huge shock to me, what you guys were up to."
While he was talking, she'd managed to open her phone, but he noticed.
"Nope, no touching anything. The picture, please. Now."
With a wince, she winked.
When he got the photo, he burst into laughter. "This?" He looked at her with an unhinged grin, his perfect teeth sparkling. "This is what you want? This isn't a person, this is some kind of —" he searched for the right word. "Doll." He packed about as much vitriol into that word as it could take.
She had an out of body feeling, observing that one part of herself was laughing from far away, where it couldn't be heard. "I'm sorry," she said. "But really, it still looks just like you. It's not that different."
He was up, pacing the room. "This is what you guys are building?" She'd never seen him like this, and noticed that some of the modifications weren't quite keeping up with his furious gesticulations. "This should be illegal," he practically yelled.
Sasha felt the arguments from that old discussion thread come spilling out of her, almost word for word, like she was talking to Bryce Balstock or whatever.
"It's actually going to be really beneficial for society," she said. "And it's not possible to control what people think. I could have just been imagining you that way."
"Yeah, except you can't, imagination doesn't work like that. On the other hand, this can make life into a pretty sick dream for some people."
"But people already modify themselves," she shot back. "Everyone does it. Even you."
Graham snorted, like she'd struck a low blow. She wanted to get up and go to him, but felt stuck watching him move back and forth. He's not as strong as he looks, she reminded herself.
"I know how you feel about this stuff," she said. "You're probably not going to be someone who uses these kinds of mods either. But for lots of people —"
He stopped right in front of her, almost quivering. "That's exactly it! That's the thing! Before, I had a choice. And now I don't."
"But before I didn't have a choice. Like your beard. We just have different preferences —"
"And I can't believe I shaved it for you." He sank to the ground, elbows on knees, head in hands, staring at the floor. He looked on the verge of tears, his face distorted beautifully, like a marbled Greek.
She crawled towards him, improvising. "But to me, this proves — I could have made any guy look like that. But it's not about looks, it's about letting everything else shine through." Was she telling the truth, or something that later she would find indistinguishable from the truth? It didn't matter, his silence was a hole she wanted to pour herself into. "Maybe our relationship just needed this. I just needed this to see that you were the right person."
"Maybe you found the right person," he said. "But that person isn't me."
"It is," she said. "It is, it is, I love you."
She ran to the bathroom sink and clawed out her Views, just left them on the counter. When she came back he was still there, soft and raw now, wearing a ridiculous chinstrap. She felt all the fight break in her, like a fever breaks, and she held him for a long time.
And with her eyes closed, she saw her code, and she saw the new world that it had set turning. What she couldn't see were the millions of faces she would wear before it stopped.