Schwartz Circuit #7: The Most Important Question
A tiny story
Hi everyone,
Black Lives Matter. The past few days I have been thinking a lot about this excellent short story, "The Venus Effect," by Violet Allen, that I stumbled across months ago. I don't want to give too much away, but I'll just say that it's incredibly fresh and cutting (and just as funny as I remembered, too). After you've read it, you might look at the story's publication date, 2016, and do a double-take. That's a sad thing. May the next four years bring real change, and healing, and hope.
This week I just have a very tiny story for you, kind of dipping my toes back in, because the real world has lately been pulling me out of the waters of fiction, which has sometimes felt like a frivolous place to be, even though it's not. It's just that I want such much to write a story that rises out of and transcends my experience, to include many others, to say something honest and important. Maybe one day I'll get there, but for now, I'll have to keep trying.
Love,
Paige
---
The Most Important Question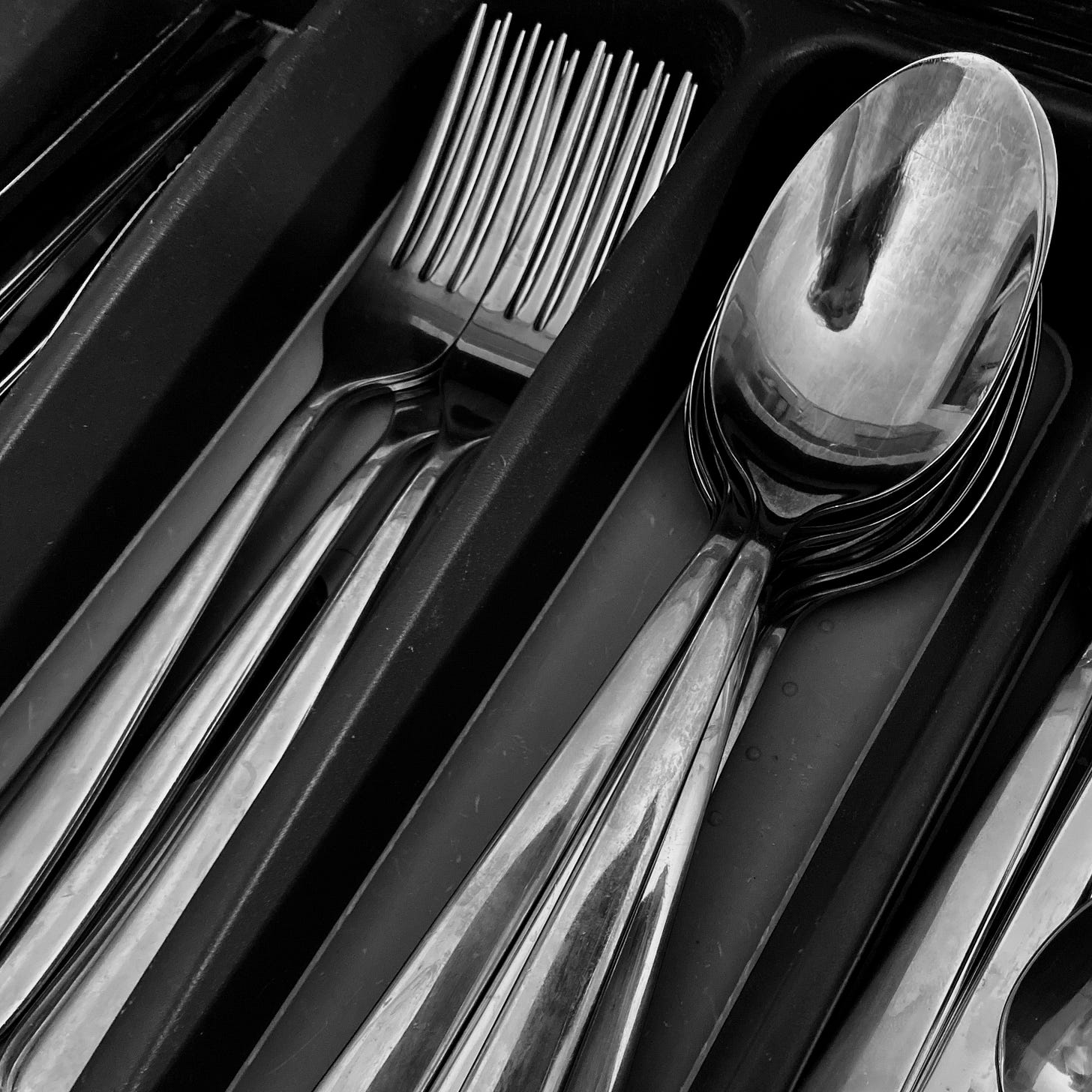 "If you could pick just one utensil, a spoon or a fork, for the rest of your life, what would it be?" you asked me online, and I almost didn't write back.
"A fork, of course," I told you, taking a plastic one and forgetting about everyone else at the party. "What about salad? Or steak?"
"Obviously, a spoon—are you going to give up soup?" you asked as I slurped ramen, which I wasn't sure I liked but was willing to try.
"I guess if you're ok shoveling food into your mouth forever," I said, watching you scoop mac and cheese on your couch.
"But a spoon's more universal," you said, reaching across the candlelight to slide into my creme brûlée.
"You have to be able to stab things," I said at my place, where my risotto went gummy from nervous stirring.
"Spoons are more efficient," you said at yours, where instead of chairs, we sat on a cooler, and you made me soufflé.
"What about a spork?" asked your sister, who I liked.
"Sporks are a terrible compromise," I declared to make my parents laugh, and I squeezed your hand.
"The worst of both worlds," you agreed, driving a spork through its takeout wrapper with that sudden, magnetic ferocity.
"Spoon or fork?" I called across our apartment, even though I knew.
"Actually, a fork," you said, and I smugly piled fruit in the bowls from our registry.
"Spoon please," was my answer to birthday cake, my mind on the number of candles.
"A-ha!" You danced around our living room, victorious.
I glared at you from the couch, holding my stomach, and said, "It really doesn't matter."
"Here." You handed me a fork without asking, so I could eat pesto gnocchi, the only thing I'd eat.
You fell asleep next to me while I was nursing, but not before you murmured, "Now that's a superior utensil."
"It's not really a liquid or a solid," I observed about baby food, and we exchanged weary smiles.
"Is that what I think it is?" I asked when you brought home a fat little shovel, baring blunted teeth.
"Ta-da!" we said, creating the most perfect mouthful the world had ever seen.
"Gah," said the baby, and insisted on using her hands.